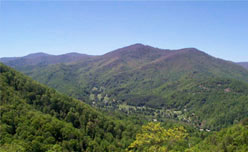 The 3rd and latest Smoky Mountain Retreat, this community is comprised of over 1,000 acres located on several mountainsides over looking Maggie Valley. The pristine, heavily wooded terrain is teeming with wild turkey, grouse and other wildlife. Tight deed restrictions include a $5,000 fine for each and any tree touched on a home site without written association approval. It is the intent of the developer for this community to be a model of environmentally sensitive development.
The first six of twelve phases are complete and are comprised of approximately 250 homesites.
Phases A&B homesite prices range from $60,000 to $80,000 and house/lot packages begin at $320,000.
Phase C homesite prices range from $80,000 to $110,000 and House/Lot packages run from $400,000 to $3,500,000. Phase C includes Dream Street – prime long-range view homesites that will be lined with $1,000,000+ luxury log homes.
Phase E has "top of the mountain" long-range view premium homesites. Lot prices start at $160,000 and go to $210,000. This phase has quick access to our top gate and a 10-minute drive or less to the Laurel Ridge Country Club (our affiliated golf & country club).
Phase G is similar to Phase E, with 30 beautiful homesites priced from $160,000 to $210,000.
Phase H homesite prices range from $30,000 to $112,500 and house/lot packages begin at $278,975. The average elevation is 4,500 feet. Owner financing is available for Phase H lots.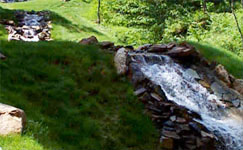 The community is gated and patrolled by private security. It has large park areas with children's playground equipment, campfire sites, streams, ponds, wildlife preserve areas, and many other amenities.
Association fees are $1200 annually and include a reserve for street maintenance and snow removal. The roads are wide and gently sloped and the envy of all the other mountain communities in Western North Carolina. Many buyers are commenting on the extra value they put on the road system which feels safe to the most extreme flatlander.
A central water system with water purchased from the town of Waynesville assures a lifelong reliable source of water.