Landscaping Your Home in Maggie Valley
When you choose to purchase a home in the Maggie Valley or Waynesville area through Smoky Mountain Retreat, you will have the most beautiful scenery surrounding you. All of the beauty around is provided by nature. However, when you purchase a house in Haywood County you have to think about being the artist of your own scenery, meaning your yard.
Study Your Yard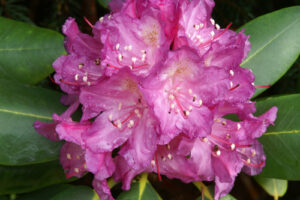 Before you do anything to your yard take time to study it! Take note of how rocky, damp or dry the soil is, or if there are a lot of roots. Make sure to study the sun patterns to see which areas of your house will receive the most sunlight.  This will help you decide which plants will thrive best in different areas of your yard. Most yards in the mountains have some level of slope.  You should study the level of slope in your yard to decide which plants will root deep enough to survive on a slope, and which you should put on a level area of your yard.
Understand the Sun
Sunlight is, of course, on of the most important aspects when you are planning your garden. It is surprising in the mountains how much this factor needs to be considered to establish how much sunlight you will get at different times. Some plants may only need as little as three hours of sunlight while there are several others which require six hours. If you plant foliage that needs ample sunlight in a shady area of your yard, you are going experience less flowers and a shorter life span.
Accentuate Do Not Distract
The landscaping of your yard should help to accentuate the natural beauty around you. Your house and yard should fit in with the surroundings.  You do not want it to stick out like a sore thumb. Choose plants natural to the area. Do not try to experiment with plants that are not native to the area or try to bring another area's plant life to the mountains.
The same is true when setting up your outdoor area.  If you have decided on a walkway, waterfall or fire pit, choose from materials that fit in with the surrounding area.  Stone walkways, retaining walls, and wooden patios all have the same color pattern, and blend in well with the beauty surround you.
Think Native
Again, when you are choosing the plant life in your yard look at w
hat is native to the region.  These plants are going to be the most virile, helping your money go a further.  Because they are native to the area, they are able to survive the cold winters.  You have to be careful not to introduce new plants into the mountainous ecosystem. These plants don't fit and could be harmful to the fragile balance of nature. Think about Wisteria.  You have to carefully maintain a plant such as Wisteria.  If left to its own devices it will suffocate everything in sight. To ensure you have chosen the correct plants, check with your local nursery.
Utility Lines
One last thing you want to take into account when planning your landscaping is, what is beneath the ground. Your yard is not just bare land; it is land bordering a home.  This means it contains a lot of different lines underground used to serve your home.  When you buy real estate with Smoky Mountain Retreat we are able to give you a full breakdown of where everything is located underground. This means we can show you were the sewer system, gas lines, electrical lines, water pipes, and telephone lines are specifically located. We save you the step of having to located your local utility companies.