Winterize Your Maggie Valley Home
Autumn is one of the most beautiful times of year in the mountains of North Carolina. Most people would like to be outside basking in the sunshine and getting in those last outdoor activities before winter comes along. However, there are several things you must accomplish before wintertime sets in.
If this is your first year leaving your home for the winter, you may be wondering what you can do to protect your house from the weather. You have spent a lot of money investing in your house, so you want to make sure you it is well taken care of.
                                                                             Inspect Your Gutters and Roof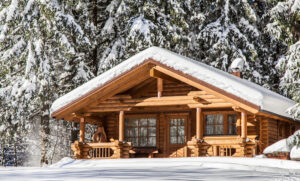 If the local temperature drops below 32 degrees, you may want to think about add an extra layer of installation in your attic.  This is will help protect your roof from ice damage.  Check your fireplace to make sure you there is not way water can enter through the chimney. You should also look at your roof and replace any shingles that look worn. Clean out your gutters thoroughly and put screens over them to prevent extra particles from entering. Use a hose to clear out the down spouts to clear away any debris.
Do a Foundation Check
Take the time to clear away all of the leaves and debris from around your house. Seal up any entry or crack where a small animal could enter.  Make sure there is not a point of entry for an animal to crawl under house. Mice are able to slip through the smallest of spaces.  Sometime placing ultrasonic electronic repellants throughout your house can help to deter small rodents from entering.
Trim Your Trees
Walk around your property to see if there are any limbs which could cause your electricity to go out.  Notice if there are trees that don't look particularly sturdy.  If they weigh enough, they could possibly cause damage to your home. Trim any branches that look suspicion. It's much easier to do in the fall before it gets frigid.
Check Doors and Windows
Inspect your exterior windows and doors thoroughly. Check for any cracks or exposed entry points around pipes. Use some type of weather stripping on your doors and windows to prevent the winter air from entering your home. Also, make sure to take the time to caulk the windows.  If you are just going on vacation in the wintertime for a short period of time, set your heat to 55 degrees.  This will help prevent your pipes from freezing.
Protect Your Pipes
Make sure you are aware of where your water main is located in case you need to shut it off in an emergency. Remove all of the water from your garden hoses, and if your air conditioner has a shut-off valve, turn it off.  If you are leaving for the winter, it is suggested to put anti-freeze down your drains and toilets to prevent busted pipes.  If you are going on vacation, set the thermostat to 55 degrees.
Prepare Your Fireplace
If you feel as though it has been a while since your chimney has been cleaned, then now is the time to take care of that. Call a chimney sweet to remove soot and other accumulations.  You can also look into calling your local fire department.  Typically, they are able to provide you with an excellent recommendation, but in some areas, they actually provide the service. Make sure to cap or screen the top to prevent wildlife from making a home in your chimney. Make sure the flu is closed securely, and the flashing is secure.  This will help prevent extra cold air and/or water from entering your home.
Check Your Filters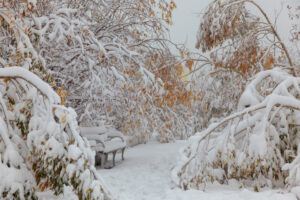 Before you begin running your furnace, you should take the time to check your filters.  If they look dirty, then it is time to replace them. When you have clean filters, your heat is able to work more efficiently.  Therefore, you are able to save money on your power bill. If you are leaving town for the winter, it is suggested to leave your heat set on 55 degrees to help protect your home.  If you are staying through the winter, it is best to replace the filters ever 4-6 weeks.
The thought of spending the fall months doing home improvements may seem daunting. It is tempting to spend your time outside, soaking in the last couple of days of weather and sunshine.  Not to mention, the scenery in the mountains is absolutely spectacular in the fall!
However, if you are able to accomplish these tasks while it is still nice out, it will save you a lot of hassle. No one wants to bundle up and go to work outside once the snow starts coming down.  Between the cold and wind, you will constantly be saying, "I wish I would have done this earlier."
When you buy a house through Smoky Mountain Retreat you can rest assured we will take care of you.  We make owning a home in the mountains a fun and enjoyable experience.  You Homeowner's Association fees go to help with keeping the roads cleared.  Because we have such an outstanding relationship with the community, we are able to give recommendations for any home improvement project you may have.
Contact Smoky Mountain Retreat today to find out how we can help you prepare for winter in Western North Carolina!